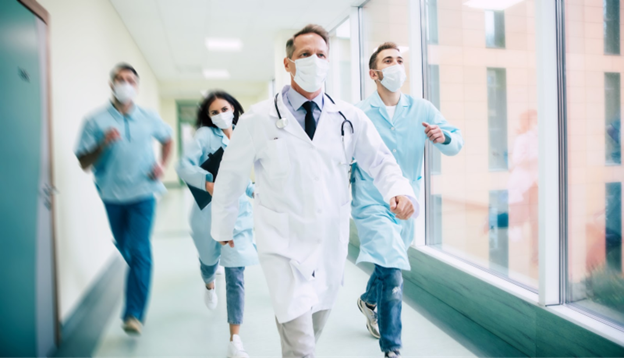 According to
HealthIT.gov
, 95% of hospitals, from small rural facilities to large medical centers, use certified EHR technology. It's not just hospitals who are moving toward a greater reliance on technology. Physician offices have also adopted
EHR technology
at a rapid rate, growing from 42% in 2008 to a whopping 86% in 2017. It's clear–technology in healthcare is increasing. 
With this growth also comes the possibility of downtime events, whether planned or unplanned. Now that technology is used throughout the healthcare facility, these events affect a myriad of hospital services from direct patient care to daily operations, such as finance, nutrition services, and more. The impact is significant. 
This question remains: How do hospitals and physician offices avoid downtime events? The answer: they can't. IT teams know and accept that downtime events are built into the cake–they simply cannot be eliminated. However, the effect of the event can be mitigated with a well-planned downtime solution. 
To effectively plan for downtime events as a part of your disaster recovery plan, look for a solution with these important elements.
Consistent Access to Patient Data
When technology systems are interrupted, it's critical that physicians and nursing staff can  access important patient data. No matter the status of the network or technology platforms, patients still need care and to provide it, medical staff need to accurately read patient records.
Look for a downtime solution that establishes workstations in predefined areas and consistently downloads data to those workstations before the downtime event occurs. During the event, these workstations act as data life-preservers, delivering quick access to critical medical records for hospital staff.
No-Paper Registration Process
In the past, healthcare facilities have resorted to using paper systems during a downtime event. This presents several challenges:
Costly errors occur while collecting patient information; at best these errors require time and resources to correct and, at worst, they cause harm to patients, putting doctors, medical staff and the hospital at risk

Bulky paper forms dedicated to only collecting information during a downtime event must be printed and stored, which can be costly and cumbersome

Time-consuming data entry is required after the downtime event to enter the data that was collected manually
A healthy downtime solution uses predefined workstations for a paperless registration process that is integrated with the hospital's Electronic Health Record (EHR) system. Patient Access Representatives register patients electronically, assign Account and Medical Record Numbers,  and collect required data according to previously defined data input standards. Patient  documents, such as driver's licenses and insurance cards, are easily scanned and added to the patient record.
A no-paper registration process increases patient safety, improves the quality of the data collection, saves medical staff time, and prevents treatment delays.
Pre-Built Electronic Forms
Whether planned or unplanned, medical staff need quick access to the library of electronic forms to provide accurate patient care and protect the healthcare organization from liability. 
A comprehensive downtime solution is able to launch a variety of forms, such as wristbands and labels as well as treatment and financial consent forms from the downtime workstations.  Patients and staff must be able to sign these forms electronically while the system captures their signed consent. These workstations must also be able to print wristbands and labels with embedded patient data and barcodes. 
Pre-built electronic forms allow medical facilities to define a set of required forms before they are needed, store them digitally, and access them quickly when needed.
Rapid Recovery
After the downtime event concludes, the interactions and medical care provided during the event must be digitally documented and recorded. With paper forms or disparate systems, this crucial step requires significant time.
A strong downtime solution updates the EHR with new registrations and patient care information using a Health Level 7 (HL7) interface. This secure, digital exchange of data eliminates manual data entry, saves staff time, and ensures the data collected is accurately added to the EHR system.
Prepare for Your Downtime Event Today
No matter how prepared you are, a downtime event is sure to interrupt access to your digital systems at some point. Prepare for planned, unplanned and network downtime events with the proven Downtime Solution designed by dbtech. 
With over 30 years of experience, the dbtech team understands your needs and has a proven track record of building solutions for healthcare organizations of all sizes. Give the team a call at (732) 882-0200 and schedule a demo today.