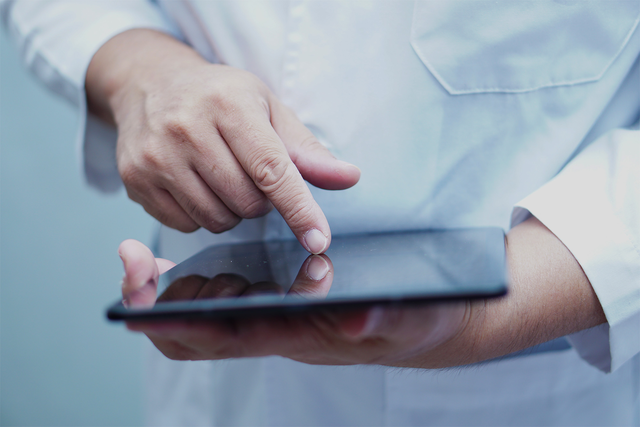 Every day, healthcare organizations are challenged with new problems that need to be solved as quickly as possible. From patient care to administrative tasks, workflows can be hectic and overwhelming. Hospitals have workarounds, even when a downtime event occurs, though oftentimes these solutions are not the most efficient.
That's why dbtech has created electronic solutions that allow for a streamlined admission and registration process, decreased paper usage, and greater accuracy in data collection. In this blog, we will review a few common scenarios that occur within healthcare organizations and how to effectively combat certain issues with dbtech's technology.
Streamlining Patient Registration with Rasi
Patient registration is often the first point of contact between a healthcare provider and a patient. It's important to ensure that the entire registration process is efficient and accurate so as to avoid negatively impacting patient care, the patient experience and even reimbursement.
Problem: Documents collected at the point of registration are often photocopied and then sent to another department for scanning into the EHR. Face Sheets, armbands and labels are sometimes printed using costly and outdated applications that are difficult to use. And with older legacy systems, there may be no electronic interface. Paper can be lost, damaged or misfiled. The manual printing of face sheets, armbands and labels can delay treatment. Lack of electronic interfaces require the manual keying and rekeying of patient information that results in costly mistakes and delays in treatment.
Solution: dbtech's patient-centric electronic folders and document management solution, Rasi, has helped dozens of hospitals streamline their registration workflows. First, we use industry standard HL7 interface transactions from your registration system to automatically, and in real-time, create corresponding electronic patient folders. Next, based on pre-defined triggers and criteria, patient face sheets, armbands and labels are automatically printed to the appropriate location. Finally, documents such as identification, insurance cards and prescriptions are scanned into the electronic folder and then exported out to any other system. 
Save Time & Money with eForms
Many hospitals still rely on paper forms as part of patient registration as well as in patient care areas. Paper-based workflows are costly, time-consuming, space-consuming and can negatively impact patient care. Studies show that many hospitals are seeing the benefits of paperless forms. Many are using dbtech's eForms solution to realize those benefits.
Problem: Organizations still using paper forms incur costs associated with the design, printing and storage of forms. There are also costs associated with the amount of time it takes to find the right forms, and then complete, deliver and digitize those forms. Handwriting is sometimes illegible and oftentimes, there are old versions of forms still being used inappropriately. These issues result in treatment delays and even issues with compliance and reimbursement.
Solution: dbtech's eForms solution including eSignature, has been integrated into the registration process at dozens of hospitals. Building a library of electronic forms is easy, as we incorporate well-known tools such as Microsoft Word and Adobe Acrobat into the forms creation process. The cost to maintain paper inventory is slashed, and using the eForms solution enables version control to ensure there are no outdated versions in use. Consents, authorizations and other forms are captured electronically and made available to appropriate staff in real time. These forms can even be electronically exported out of the eForms solution for storage in the EHR or other information or revenue cycle systems.
Mitigate the Effects of Downtime
Downtime events happen, and they have major impacts on patient care as well as on normal business processes. If you're lucky, your downtime events are planned and staff have time to prepare in advance. However, outages aren't always foreseen, and can last days, or even weeks. Along with our Downtime Solution, dbtech's team of experts can help you overcome challenges associated with downtime events and mitigate the effects of such events, even when they are unplanned.
Problem: When a provider's EHR and/or other information systems are down, the organization, in part or in whole, reverts back to manual, paper-based workflows, which lead to delays in treatment and costly mistakes in data collection. Clinical information cannot be accessed, putting patient safety at risk. Recovery after downtime is exponentially longer than the downtime event itself. Organizations face the added expense of overtime as extra staff are required to help with recovery efforts. There is an increase in untimely and inaccurate claim filing, resulting in revenue loss for services rendered.  
Solution: dbtech's Downtime Solution is a trusted solution when it comes to mitigating these issues, even during network outages. Patient data is stored electronically and available offline in the event of downtime. Access census data, clinic schedules and even patient history such as medication administration reports (MAR). Create new encounters electronically and print face sheets, armbands and labels. Complete and capture consent and treatment forms with electronic signature and scan other paper documents into the application. After the downtime event, export all new patient data, including documents, out of the Downtime Solution to other systems electronically, thus cutting down on recovery time, efforts and expense.
Integrating Rasi, eForms and Downtime into Workflows For Better Healthcare Outcomes
dbtech's solutions are the perfect choice for organizations looking to improve existing workflows and processes, ultimately contributing to better patient outcomes and maximum reimbursement. Rasi, eForms and Downtime mitigate risks associated with manual workflows and paper-based processes. Ensure accurate patient data collection, avoid delays in rendering patient care and mitigate the impacts of downtime, all while using one of the most secure and compliant solutions available. If you're interested in learning more about dbtech's paperless healthcare solutions, don't hesitate to reach out to our experts today.